Dishwasher Repair In Goleta
Dishwasher Repair Services
Welcome to Appliance Repair Goleta, your number one choice for dishwasher repair services in Goleta and the surrounding areas. When your dishwasher is not cleaning properly, not draining, or facing other performance issues, our team of expert technicians is ready to help.
A malfunctioning dishwasher can disrupt your daily routine and cause a pile-up of dirty dishes. Our skilled team is experienced in handling a variety of dishwasher types and models, including built-in, free-standing, and compact dishwashers. Whether your dishwasher is leaking, making unusual noises, or refusing to start, we can quickly diagnose the problem and provide an efficient solution.
At Appliance Repair Goleta, our services go beyond the immediate repair. We aim to enhance your dishwasher's overall performance and longevity. Our technicians will inspect your appliance for potential problems and address them, preventing future breakdowns and ensuring a long life for your dishwasher.
Don't let a broken dishwasher interrupt your day. Reach out to Appliance Repair Goleta, and let our experts provide you with the best dishwasher repair services in the region. Get your kitchen back in order, and your dishes sparkling clean. Contact us today!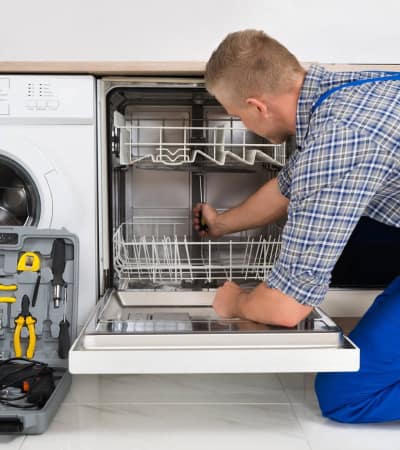 It's time to say goodbye to the inconvenience of broken appliances and embrace the ease of expert repair services. Let Appliance Repair Goleta put your appliance worries to rest.
Call us today or Schedule Your Appointment online !
Frequently Asked Questions
Leaks from a dishwasher can occur due to a variety of reasons such as a worn-out door seal, overloading, or using the wrong type or too much detergent. At Appliance Repair Goleta, we can quickly diagnose the cause of the leak and repair it, restoring your dishwasher's optimal performance.
A dishwasher might not drain due to a clogged drain hose, a faulty drain pump, or a blocked garbage disposer. Sometimes, the issue might be a simple one like a forgotten drain plug during installation. Whatever the reason, our skilled team can identify and fix the issue promptly.
Loud noises from your dishwasher could be due to a faulty pump, defective spray arms, or a hard object caught in the chopper blade area. Such issues should be addressed promptly to avoid further damage to the appliance. Our technicians are well-equipped to handle these problems, ensuring your dishwasher operates quietly and efficiently.
If your dishwasher isn't cleaning dishes properly, it could be due to a blocked spray arm, a malfunctioning detergent dispenser, or problems with the water inlet valve. Hard water can also cause this issue. Our expert technicians at Appliance Repair Goleta can diagnose the problem and provide an effective solution.