Welcome to Appliance Repair Goleta, your trusted source for all your freezer repair needs. When your freezer isn't cooling properly, forming excess ice, or making unusual noises, our team of professional technicians is ready to assist you.
A malfunctioning freezer can put your food at risk of spoilage, leading to inconvenience and waste. At Appliance Repair Goleta, we understand this, and that's why we offer prompt and efficient freezer repair services throughout Goleta and the surrounding areas. Our skilled team is capable of diagnosing and repairing a variety of problems across various types of freezers, including upright, chest, and drawer models. Whether your freezer is failing to maintain the right temperature, leaking water, or experiencing problems with the defrost system, we can identify the issue and provide the most effective solution.
At Appliance Repair Goleta, we go beyond just fixing the immediate problem. Our aim is to enhance your freezer's overall performance and lifespan. Our technicians will thoroughly inspect your freezer for any potential issues, addressing them to prevent future breakdowns and ensure your appliance serves you well for years to come.
Don't let a faulty freezer disrupt your food storage routine. Reach out to Appliance Repair Goleta, and let our experts provide top-notch freezer repair services. We're here to help you maintain the perfect chill for your food. Contact us today!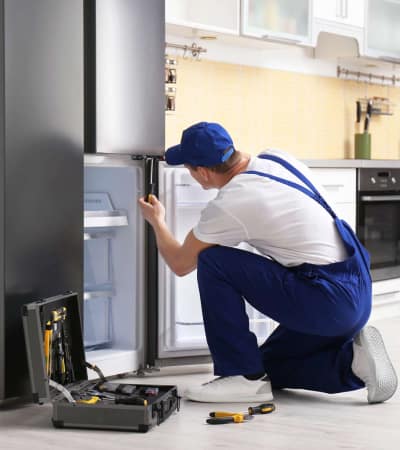 It's time to say goodbye to the inconvenience of broken appliances and embrace the ease of expert repair services. Let Appliance Repair Goleta put your appliance worries to rest.
Call us today or Schedule Your Appointment online !
Frequently Asked Questions
If your freezer is not cooling properly, it could be due to a variety of issues, including a faulty thermostat, a malfunctioning fan motor, or a problem with the defrost system. Our technicians at Appliance Repair Goleta can quickly diagnose the problem and provide an effective solution.
Unusual noises from your freezer could be due to a failing evaporator fan motor, a faulty compressor, or issues with the defrost timer. Our skilled technicians can effectively diagnose and fix these problems.
Excess ice formation in your freezer could be due to a damaged door seal, a faulty defrost heater, or issues with the defrost timer or control board. Our experienced team can identify and address these issues promptly.
A leaking freezer can be due to a clogged or frozen defrost drain, damaged drain pan, or a faulty water supply line (for models with an ice maker). At Appliance Repair Goleta, our technicians can handle these problems, ensuring your freezer operates smoothly.