Welcome to Appliance Repair Goleta, your reliable source for all your oven repair needs. When your oven isn't heating, not baking evenly, or showing other signs of malfunction, our team of skilled technicians is ready to assist you.
A malfunctioning oven can put a halt to your cooking and baking activities, disrupting your daily routine. We understand the inconvenience this can cause, and that's why we offer fast and efficient oven repair services throughout Goleta and the surrounding areas. Our experienced team is capable of diagnosing and repairing various types of ovens, including conventional, convection, and self-cleaning models. Whether your oven is failing to reach the right temperature, having control panel issues, or experiencing problems with the door, we can identify the root cause and provide an effective solution.
At Appliance Repair Goleta, we go the extra mile to enhance your oven's overall performance and lifespan. Our technicians will inspect your oven for any potential issues, addressing them to prevent future breakdowns and ensure your oven serves you well for years to come.
Don't let a faulty oven disrupt your cooking routine. Reach out to Appliance Repair Goleta, and let our experts provide the top-tier oven repair services you deserve. We're here to help you get back to baking your favorite dishes without a hitch. Contact us today!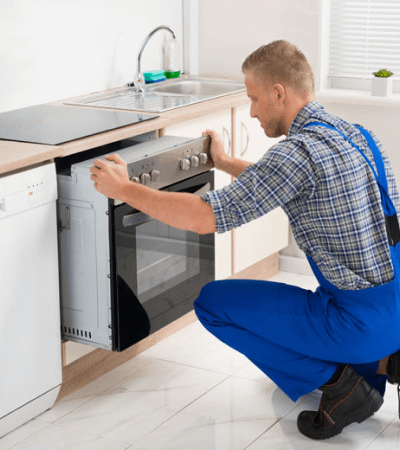 It's time to say goodbye to the inconvenience of broken appliances and embrace the ease of expert repair services. Let Appliance Repair Goleta put your appliance worries to rest.
Call us today or Schedule Your Appointment online !
Frequently Asked Questions
Uneven baking can be caused by a variety of issues, including a malfunctioning thermostat, faulty heating elements, or issues with the convection motor or fan. Our experienced team can identify and address these issues promptly.
Problems with your oven door could be due to worn-out hinges, a damaged door seal, or a faulty door latch. At Appliance Repair Goleta, our technicians can handle these problems, ensuring your oven operates smoothly.
Strange noises coming from your oven could be due to a failing fan, a defective cooling fan motor, or issues with the convection motor. Our skilled technicians can effectively diagnose and fix these problems.
Inaccurate oven temperature can be caused by a faulty thermostat, issues with the temperature sensor, or problems with the control board. It's important to have this fixed promptly to prevent overcooking or undercooking of food. Our expert team can diagnose and repair these issues efficiently.