Refrigerator Repair In Goleta
Refrigerator Repair Service
Welcome to Appliance Repair Goleta, your local expert in refrigerator repair services. Whether you're dealing with leaks, temperature irregularities, faulty ice makers, or any other refrigerator issues, our seasoned technicians are ready to help. A malfunctioning refrigerator can disrupt your daily routine, spoil your food, and lead to unexpected expenses. We understand the urgency and provide prompt, effective, and reliable refrigerator repair services to get your kitchen back in order.
Our team is well-versed in dealing with a wide range of refrigerator models and makes, ensuring a comprehensive service regardless of your appliance type. We can handle everything from traditional top-freezer models to the latest side-by-side or French door refrigerators.
With Appliance Repair Goleta, you can expect top-quality repair services that extend the lifespan of your refrigerator, saving you the cost and hassle of early replacement. Our team is committed to providing solutions that meet your needs and exceed your expectations.
Don't let a faulty refrigerator spoil your day. Get in touch with Appliance Repair Goleta today and experience the best refrigerator repair services in the region.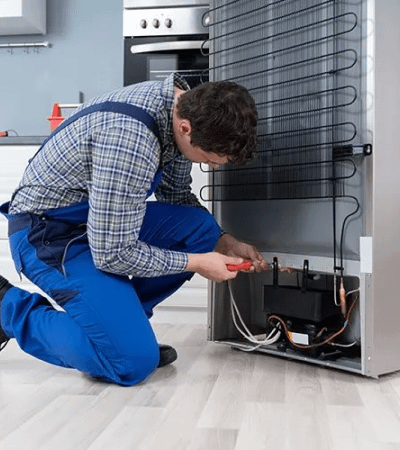 It's time to say goodbye to the inconvenience of broken appliances and embrace the ease of expert repair services. Let Appliance Repair Goleta put your appliance worries to rest.
Call us today or Schedule Your Appointment online !
Frequently Asked Questions
Several issues can cause a refrigerator not to maintain the proper temperature. It might be due to a dirty condenser coil, a malfunctioning thermostat, a faulty door gasket allowing cool air to escape, or problems with the defrost system causing ice buildup. Our skilled technicians can diagnose and fix these issues to restore your refrigerator's performance.
Frost buildup inside your refrigerator can be due to various reasons including a defective door seal allowing moist air into the fridge, frequent or prolonged door openings, or issues with the auto defrost mechanism. Our team can help determine the cause and offer effective solutions to prevent further frost build-up.
Refrigerator leaks are often caused by a blocked defrost drain or a clogged or frozen water supply line. These issues can usually be fixed easily by our experienced technicians. However, if the leak is due to a more severe problem like a faulty seal system, we can also address these to prevent further complications.
Strange noises can come from various sources within your refrigerator. It might be due to a defective fan, a failing compressor, or loose drain pans. It's important not to ignore these noises as they could indicate a significant problem that, if left unchecked, could lead to more serious damage or even a complete breakdown.