Welcome to Appliance Repair Goleta, your trusted partner for all your washer repair needs. When your washer is not spinning, draining, or performing as it should, our expert technicians are just a call away.
Laundry is an essential chore, and a faulty washer can cause significant disruptions to your schedule. Our team is adept at diagnosing and fixing a wide range of problems that can affect various types of washers, including top-load, front-load, and compact models. Whether your washer is leaking, making strange noises, or refusing to start, our experts can identify the problem and provide the best solution.
At Appliance Repair Goleta, we don't just fix the immediate issue. We aim to enhance the overall performance and lifespan of your washer. Our technicians will inspect your washer for any potential problems and address them, preventing future breakdowns and ensuring you can rely on your appliance for years to come.
Don't let a malfunctioning washer throw a wrench in your day. Get in touch with Appliance Repair Goleta, and let our experts provide the top-quality washer repair services you need. We're here to help you get your laundry routine back on track. Contact us today!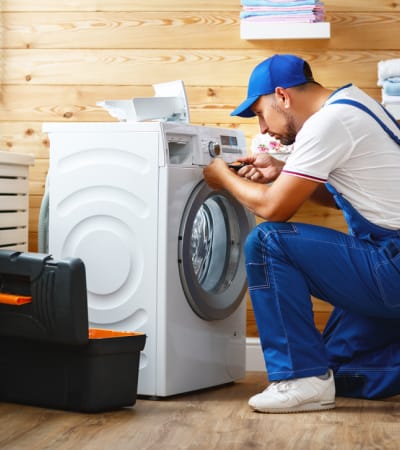 It's time to say goodbye to the inconvenience of broken appliances and embrace the ease of expert repair services. Let Appliance Repair Goleta put your appliance worries to rest.
Call us today or Schedule Your Appointment online !
Frequently Asked Questions
Leaks can occur due to several reasons such as a damaged door seal, a loose hose connection, or overuse of detergent causing excessive suds. At Appliance Repair Goleta, we can quickly identify the cause of the leak and fix it, ensuring your washer operates smoothly.
If your washer isn't draining properly, it could be due to a clogged drain hose, a faulty pump, or a problem with the lid switch. It could also be because of blockages in the drain filter. Our experienced team can diagnose and fix these issues effectively.
Loud noises from your washer can be caused by several issues, including overloaded or unbalanced loads, worn-out bearings, or a problem with the drum or motor. It's important to address these noises promptly as they could indicate a major issue. Our technicians are equipped to handle these problems efficiently.
There could be several reasons why your washer isn't spinning. Common causes include a broken lid switch or door lock, a worn or snapped drive belt, or a problem with the motor. Our skilled technicians at Appliance Repair Goleta can identify the issue and provide a suitable solution.