Wine Cooler Repair In Goleta
Wine Cooler Repair Services
Welcome to Appliance Repair Goleta, your dependable partner for all your wine cooler repair needs. When your wine cooler isn't cooling properly, making unusual noises, or showing other signs of malfunction, our team of skilled technicians is here to help.
A malfunctioning wine cooler can compromise the quality and taste of your wine collection, which we understand can be a significant concern for any wine enthusiast. Our experienced team is proficient in diagnosing and repairing a wide range of problems across various types of wine coolers, from freestanding and built-in units to wine refrigerators. Whether your wine cooler is failing to maintain the desired temperature, experiencing issues with the door seals, or having problems with the fan, we can identify the root cause and provide a suitable solution.
At Appliance Repair Goleta, our goal is not just to fix the current problem, but to enhance your wine cooler's overall performance and extend its lifespan. Our technicians will inspect your appliance for any potential issues, addressing them to prevent future breakdowns and ensure a long life for your wine cooler.
Don't let a faulty wine cooler affect the quality of your precious wine collection. Reach out to Appliance Repair Goleta, and let our experts provide top-tier wine cooler repair services. We're here to ensure that your wines are kept at the ideal conditions for your enjoyment. Contact us today!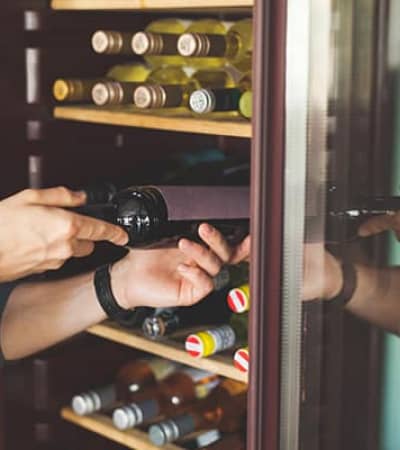 It's time to say goodbye to the inconvenience of broken appliances and embrace the ease of expert repair services. Let Appliance Repair Goleta put your appliance worries to rest.
Call us today or Schedule Your Appointment online !
Frequently Asked Questions
If your wine cooler isn't cooling properly, it could be due to a faulty thermostat, a malfunctioning fan motor, or issues with the cooling system, such as a leak or blockage. Our technicians at Appliance Repair Goleta can quickly diagnose the problem and provide an effective solution.
Condensation on your wine cooler's door can be due to high humidity levels in the room, a damaged door seal, or a faulty thermostat causing temperature fluctuations. Our experienced team at Appliance Repair Goleta can identify and address these issues promptly.
Unusual noises from your wine cooler could be due to a failing fan motor, a faulty compressor, or issues with the defrost timer. Our skilled technicians can effectively diagnose and fix these problems.
If your wine cooler's light isn't working, it could be due to a burnt-out light bulb, a faulty light switch, or a problem with the control board. Our team at Appliance Repair Goleta can quickly identify the cause and address it effectively.